AVIATION MAINTENANCE MECHANIC: A BRIEF LOOK INTO LIFE & WORK
The aviation industry represents the pinnacle in human technological achievements and it is one of the technological advancements that changed our lifestyle forever. There are so many professionals who work behind the scenes that keep the aviation industry running smoothly.  Especially personnel who keep the aircraft and related equipment in optimal operating condition. One small mistake can end up in a disaster with lives lost and damages to many more.
Aircraft maintenance plays an extremely important role in ensuring the safe running conditions for aircraft. The aviation maintenance mechanics and engineers work hand in hand performing rigorous checks constantly. It is well known that aviation maintenance mechanics need brains as well as nerves of steel. Working in large maintenance plants that span across acres and multiple stories high, as well as outside on runways,  handling special tools and highly advanced machinery, the repertoire is huge.
ROUTINE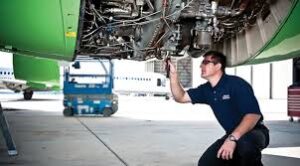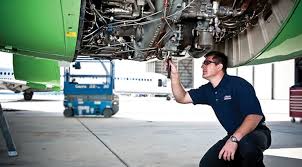 Typical day of an aircraft maintenance mechanic starts with reporting to the senior engineer who allocates him the necessary jobs to be carried out. As I mentioned earlier, a mechanic has to know his tools. They make sure that their toolbox is complete before attending any work.
Once the aircraft reaches the runway after completing a trip, mechanics check the pilot's log and aircraft cabin log to identify if there are any issues reported. Then there are various parameters that they check from the cabin like oil levels in the engine, hydraulic system, fuel pumps, batteries, airframe, propellers etc. Then avionics, the computer equipment that handles operations in an aircraft is checked. Like this there are different items to be checked and If there are any concerns they must be noted down before taking necessary action such as documenting your recommendations on where the repair work or replacements needed.
WORK LIFE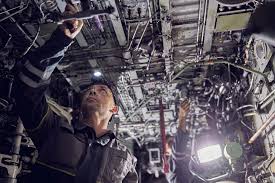 Since aircraft and helicopters must be checked quickly after landing, mechanics should be able to perform necessary tasks in a short period of time with high accuracy. Also, they have to work around the clock with overtime and on weekends, while managing high stress levels. There are FAA issued guidelines to be followed in every situation. Though many modern aircraft make aviation maintenance technician's work easy with many information gathering resources embedded in them, there will be many occasions where visual inspections have to be carried out. They are required to climb ladders and crawl into tight spaces to make observations.
Aviation maintenance mechanics have to familiar themselves with maintenance manuals, understand related schematics, diagrams, drawings, technical directives, maintenance/servicing instructions and written procedures related to operational work.  There are times mechanics have to work in hazardous environments. Areas such as oxygen system and engine fire extinguishing system in an aircraft requires careful and attentive work mindset. Work can be demanding and rewarding at the same time.
JOB OPPORTUNITIES
Aircraft maintenance mechanics can find employment in airlines as well as products and parts manufacturers. The FAA issued Airframe and Powerplant (A&P) certificate is preferred by many employers and it is advantageous in career growth as well. The demand is high for personnel who are qualified in both avionics and A&P areas. The rapid growth in computers and electronics have made the aircraft heavily dependent on digital intricacies. So people who are cross-trained tend to have more opportunities. A great source of open Airframe and powerplant jobs for aviation maintenance mechanics can be found at http://www.AMTJobOpenings.com
MORE INFO
Air Transport Association of America
1301 Pennsylvania Ave. NW, Ste. 1100
Washington, DC 20004-1707
(202) 626-4000
http://www.air-transport.org
International Association of Machinists and Aerospace Workers
9000 Machinists Place
Upper Marlboro, MD 20772-2687
(301) 967-4500
http://www.iamaw.org
Professional Aviation Maintenance Association
400 Commonwealth Dr.
Warrendale, PA 15096
(724) 772-4092
http://www.pama.org
U.S. Department of Transportation
Federal Aviation Administration
800 Independence Avenue, SW
Washington, DC 20591
(866) TELL–FAA ((866) 835-5322)