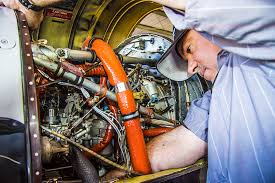 How To Build Career As A General Aviation Mechanic?
Why general in General Aviation Mechanic? Well, the aviation industry is one of the fastest-growing and most consistent industries in the world. Despite COVID-19 and taking a hit in the initial months, it is back on its feet and can be predicted to do the same, if not better business in the coming future as the traveling will start soon and there is going to be a surge in flight bookings.
This will make sure that the industry stays in business and that too, profitably. So what is in it for you? If you are planning to work as a general aviation mechanic, there is a lot of career security as well as a potential good standard of living waiting for you.
One may wonder, what exactly does an aircraft mechanic do? The name in itself gives enough idea to describe the profession and tell us a bit about what is expected from and by it.
A general aviation mechanic can be compared to being the backbone of an airline, but with smaller aircraft. They are certainly very important beings without whom the aviation industry cannot function efficiently and properly.
Who Is A General Aviation Mechanic?
General aviation mechanics are responsible for many important tasks and functions that the aviation industry requires on a regular basis. From performing repairs to carrying out routine maintenance on all types of aircraft, their job spans across a number of activities and is very crucial, to put it simply.
General Aviation Mechanics are sometimes also A&P mechanics. If you are confused by the term, let us clarify, A&P stands for Airframe and Power plant, A&P mechanics work both – inside and outside the aircraft. Their major responsibility is to make sure that aircraft remain in perfect condition to fly at all times. They are responsible for testing and repairing issues inside the plane, i.e., mainly the engine and other parts like gear, pumps, and breaks. And they also make sure that the outer body of the aircraft is well-maintained.
How Do You Become A General Aviation Mechanic?
Anyone who has an interest in technology and harbors curiosity and passion for the aviation industry is perfect for this profession. It is quite a lucrative job that pays well and has security.
Now that we have established how interesting and rewarding this profession can be, let us move to how you can enter it.
To become a general aviation mechanic, you need to have a high school degree and must have studied subjects like Physics, Mathematics, and Chemistry. The other and most important thing you need is a certification.
This certification can be from any institute which is approved by the FAA. The aspirants have to study, give practical and written examinations and undergo a training program to finally be able to become the person who will be responsible for the proper working of an aircraft. Just like any course it requires a grasp of theoretical concepts and practical knowledge, adds training to the mix and these three elements make up a successful general aviation mechanic.
Another way to go about it is to join the military or air forces. Military trains young people in technical aspects of working on an aircraft. This training is no different from the one you may get from a school. It is similar to the hands-on training program that many airlines run, only a bit more rigorous since one is required to go through the initial physical examination and training like all other soldiers. If you also want to serve your country apart from fulfilling your passion for technology and aviation, this might be the perfect route for you. After fulfilling the tenure, you can also land a job in a private airline.
General aviation mechanics are always in demand due to the nature of their jobs. How you want to go on becoming one depends totally on, wither ways, it will be a fun and fulfilling experience.