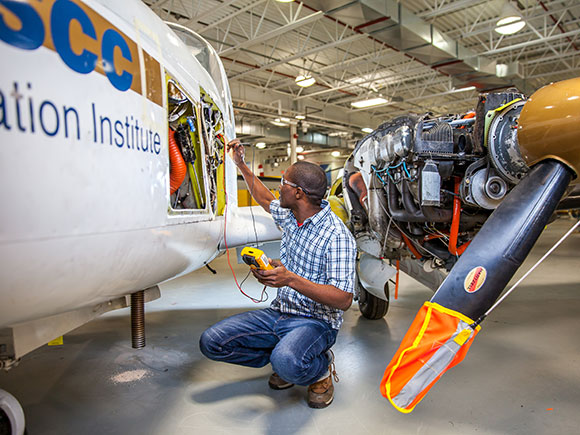 AVIATION MECHANIC: YOUR PATH TO A HIGH PAID JOB
INTRODUCTION
A career in the aviation industry can present you with many benefits. Becoming a qualified and skilled aviation mechanic can help you go a long way and prosper in the aviation industry. If you are looking for a job that involves working with cutting edge technologies and challenges only a technical mind can deal with, keep reading. You will find things that interest you.
JOB SCOPE
Maintenance is a vital aspect of any industry that makes use of highly sophisticated machinery. In that aspect, Aviation ranks pretty high. An aviation mechanic has to perform jobs like routine maintenance, servicing, repairs, periodic routines, etc. It is your job to make sure that the aircraft you are attending is in a safe condition. A minor error can lead to a catastrophic event. The components in an aircraft are very complex and need exceptional skill to perform.
It is essential that you have a technical mind since the scientific nature of the work involved. Having a creative approach to problem solving and being able to analyze or interpret data from different sources are valuable skills to have. In most cases maintenance works are carried out by teams. Therefore you will need to collaborate and communicate with others. Also reach out for help and guidance from senior staff members. Their experience can provide great insights to your work that no other source of knowledge can provide. Develop useful habits as you go along. 
An aviation mechanic needs to work in hangars mainly, but depending on the job you may have to work in flight lines or repair shops. During emergency repairs mechanics have to work outdoors even in harsh weather conditions work can be physically demanding, especially above average skills in jobs performed with hands as well as climbing ladders, crawling, crouching, etc. It is essential to maintain high standards while working efficiently.
EDUCATIONAL QUALIFICATIONS
High school diploma holders who have followed subjects like math, physics, computer science, and aerospace education should look into a career in aviation mechanics. Although a diploma is normally recommended, you must maintain a willingness to learn attitude since you need to keep up with the technological advances.
Following the completion of an FAA approved aircraft mechanics course can help you acquire an" A & P (Airframe & Powerplant)" certificate and it is important to complete relevant experience to acquire the license. high ratings in these practical examinations can be advantageous in making career advancements easily. Also having advanced ratings and a deep understanding of maintenance can get you as far as designated inspectors in federal aviation administration.
There are training schools that offer a full package that includes academic and training components. Even If you are someone who prefers more hands on approach to learning over the formal educational path, you can consider joining a on the job training program where you can practice under a qualified mechanic for a designated time period and can earn qualifications.
Military personnel with occupational experience related to aviation maintenance can get into the civil aviation sector as well. Their experience is highly credited and preferred.
You will have to successfully complete written and practical tests in order to prove your knowledge. Especially in practical tests, you are expected to demonstrate certain skills in front of examiners.
HOW MUCH CAN YOU EARN
The typical workweek is about 40 hours, eight-hour shifts around the clock, and depending on the situation might need overtime work as well. The starting salary of an aviation mechanic depends on the organization you are joining. The location of the company, types of aircraft, and the number of aircraft handled by that organization are also deciding factors. Your experience and licenses are held to make a significant contribution to increasing your salary. In a US-based company, salaries range from 30000US$ to 100000US$ annually. You must acquire necessary licenses as this gives you credibility over other candidates.
CAREER PROSPECTS
Aviation is an ever growing and expanding industry. Based on the analysis of aviation industry growth rates, many studies claim that in the coming years, there will be an increased demand for specialized aviation mechanics while there are few less optimistic studies as well. However, a well-trained individual with a deep knowledge of the technical aspects of aviation will have many opportunities waiting for him.